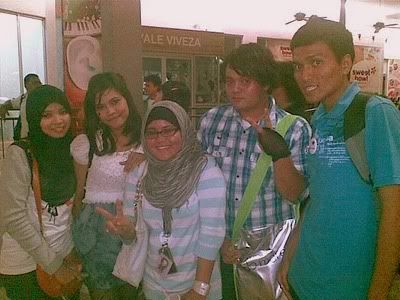 Azam and I went to watch the movie Skyline at TGV Wangsa Walk on the night that marks the end of our final examination. We both went out and spent the night out in Kuala Lunpur city until the next morning. Anyway, I have rated the movie for 4 out of 5 stars. It was a great movie with one of the best Computer Generated Images (CGI) effects used in a movie.
I would love to play the part of Jarrod if I were given the chance to act in this movie. This is the kind of movie that I would like to be a part of it. It is full of tense, drama, emotionally made to let us not have a comfortable journey watching it. All in all, I love Skyline so much!
I kind of like the idea of the unorganized plots in the movie. It kept me away from the conventional way of movie being made and I was also kept awake for the rest of the show. I must thank Nuffnang for letting me and Azam the opportunity to distress ourselves after two weeks we were busy preparing for our examination. Here is one of the pictures taken on the night of the movie screening.
Nuffnang and TGV Cinema are very generous for sponsoring all Nuffnagers with Skyline Note Pad, popcorn, Coke and especially the free invitation to watch Skyline! I received a "I Love Nuffnang" button too! Thank you Nuffnang and TGV Cinema!
Note that my name is spelled with the alphabet 'H' in the middle of the spelling.