The Library, e@Curve Damansara.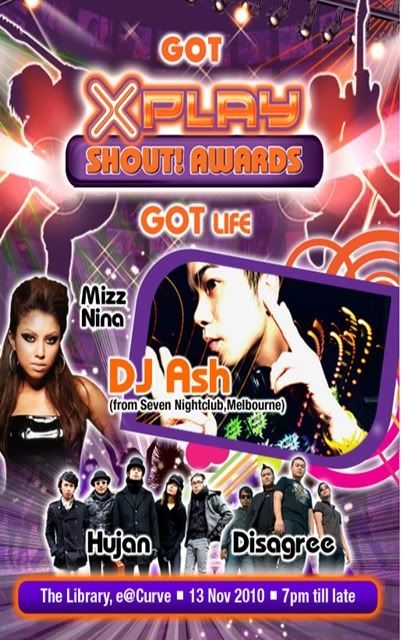 This is the event I am talking about!
-----------------------------------------
I can't believe it! Literally, I went to a club yesterday night, The Library at e@Curve. It was all caused by my partner-in-crime, Diba the Dibot because she wants to watch Hujan's performance while I want to see Mizz Nina. (I will upload all the pictures later okay).
The event was the best for me, free drinks, concert, music and all but definitely that is all not for me. I agree that I would always want to go to clubs and party but after what I have been through last night, I have made my mind not to go to that kind of place anymore. I was totally traumatized and suffer from lack of sleep due to that event (Note that both of us cannot go back to our hostel as the time limit for us to stay outside is until 11pm only, so we strayed and slept like a homeless people. Poor us right?).
I love Hujan's perfomance, Mizz Nina, Disagree and the new band, Arabella. There was a contest and I did not win the Blackberry Torch (again!). Mizz Nina asked Diba and I to sing along with her you know, can you believe me? It was like a dream and I kept on slapping my face after that incident! Argh, I love Mizz Nina more than always! She rocks the stage! Can you imagine that she had to dance for every song she sang? That shows that she has the stamina and well, talented. I am sure that she was singing, with her own voice and no recording was used.
Well, it all turned upside down when the crowd were totally losing their minds after 12 am. Can you imagine sitting next to a group of Muslim who consumed beer? Guys and girls were having hands all over their bodies and were high on liquor! Gosh, I was thinking that maybe the police will somehow rushed in and bring me back to my parents! (Note that both of my parents are police officers too). I felt very guilty to my mum and dad, seriously. What would they feel if one day they found out that I have went to such place? Oh, I will be a dead meat then!
P/S: I met Nas-T, the cast of KAMI the Movie on the same event!
Quite warm to the people around him,
Like we have known him for ages!